Running Truckers
Run run run and then run some more. Our New Running Technical Trucker is designed to stay on your head as you log hours
See ALL Running Truckers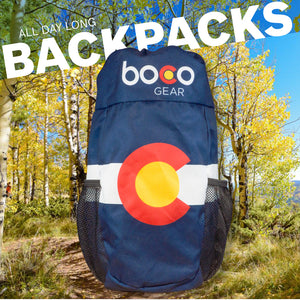 Backpacks
Need to carry more than you though? Our Backpacks fit all your stuff, sit comfortable on your back, and make it easy to get from A to B
See All Backpacks
Face Masks
We offer custom designed versions of our Face Masks. Choose 2 or 3-layers plus an internal pocket slit which can hold a filter
Quote Custom Face Masks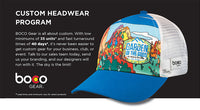 Pick Your Product | Send Your Artwork | Make Your Selection
Select from your favourite BOCO Gear Styles | Upload vector logos, Pantone colors brand standard or design ideas! | Your Custom order will be shipped to your door in 40 days
Pick Your Product Now!
Visors
Flat Bill Visor

Run Visor

360° Visor®
Socks
NO SHOW SOCK

QUARTER SOCK

CREW SOCK
LET'S GET STARTED!
It's as easy as 1, 2, 3 …
1. Pick Your Style.  Browse our CUSTOM HATS GALLERY to find just which hat, or hats (more likely) your head thinks it would like to wear
2. Send the Artwork…fill out to the form to the right and press Submit!  FYI-we are going to ask for Vector logos.  Please save your vector art from Adobe Illustrator in .pdf format – keep the "Illustrator Editing Capabilities"  
3. Also really, really helpful if you can include Pantone Colors, Brand Standards and any other Design Elements that you want us to work with.  Makes the whole process flow smoother and who doesn't like that?
Design!  Our design team will work quickly, effectively and collaboratively to nail down the probable award winning design for your 100% unique piece of headwear!
A few other things to consider as you get ready to make your choices below:
For most of our product line, our minimum quantity for custom orders is 35 units per style/color.  Any of the knit products have a 50 unit minimum.
Included in the pricing for all our products is the initial design preview and 1 revision.  If your project needs more revising, that isn't a problem at all, but you  may be subject to an additional a design fee – your sales rep will help you manage this process. 
Once the design is completed and approved, it is ready for production.  Before being sent to production, orders will require 100% pre-payment (click here for our complete Terms and Conditions)
35-40 days later you will be elevated from Super Star to Super Duper Rock Star.  IF your hair is on fire and you need those cool hats to quell the flames, we do have a RUSH service available for an extra fee.  If this cures what ails you, please call and speak to our top notch sales staff for all the details.